T-Shirt: The go-to garment
A T-shirt is a prevalent garment, especially among men. Not only in India but all over the world. It is easy to wear. Very comfortable. Easy to maintain and its very affordable. Women also wear T-shirts but not as much as men. Polo T-shirt is much more used by men than women.
T-Shirt Types
T-Shirts are basically of two types. The one with a collar and the one without a collar. Round neck (U neck), V-neck or Henley style are examples of collared one. Pique knit or weave is used mostly in T-shirt with collar, whereas we use hosiery material in round neck and V-neck T-shirts. Round neck T-shirt is also called U neck to differentiate it from V-neck. V-neck was designed in such a way that we can wear it inside a shirt without it being visible. We can not wear a round neck T-shirt the same way because the neckline will be visible. The word T-shirt comes from the T shape of a T-shirt. Its also called a Tee or a crew line. We usually have a print on Round neck or V-neck T-shirts.
T-shirt Usage
We can wear T-shirts over Jeans, Shorts, Cargo, Casual trousers etc. Also, we can wear it when we go out on a weekend trip, or when we go to the office, or when we are just chilling at home, or when we got out for a quick grocery shopping, or while playing sports. Its usage is practically unlimited. Due to its wide application T-shirt sale all across the globe is increasing every year and will grow even more in the coming years. The fabric used in a T-shirt is either Jersey knit or Pique knit. Other knitting styles are also used but Jersey and Pique rule the T-shirt world. For sports purpose, the Dry fit polyester fabric is used whereas for all other purposes cotton or a blend of cotton with polyester is used.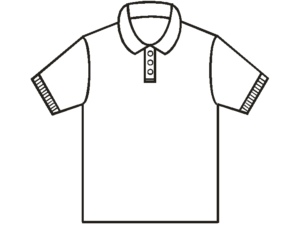 Polo shirt
Polo T-shirt is also called Polo Shirt, Collared T-shirt or just Polo. It's also called Golf shirt or Tennis shirt. Polo shirt is almost a uniform of golf players. For tennis also its used but nowadays players prefer round neck or V-neck ones and not the collared Polo shirt. The dry fit high-performance polyester fabric used in making sports T-shirts are made very lightweight and a collar is redundant. Spandex (also called Lycra in colloquial language) is widely used in sports T-shirts. It makes the fabric stretchable and makes the garment feel loose on the body even if the size is not perfect. Youth who have a good physique prefers High percentage spandex fabric because they want to show off their body. Spandex in the fabric embraces the body shape without making it feel too tight.
A Polo T-shirt has a collar like a shirt but it does not have a full front opening button. It generally has a placket with two or three buttons. In women's T-shirt, there can't be 4-5 buttons as well. Three buttons are the most common. The buttons are given just to make the garment loose or tight around the neck. Unlike shirts, one does not need to open and close so many buttons. One can wear it in seconds. This is one of its most attractive features. Click here to see our Polo T-shirt collection.
Pique weave or the pique fabric
Pique is the most common weaving style used in Polo shirt fabric. Look wise, Pique is not smooth. It is granular. The grains are so small that from a distance it looks like a plain fabric. Pique makes the fabric more breathable. Since it's textured and 3 Dimensional so its great in hiding the stain marks especially from perspiration. Pique weave is made for Polo T-shirt and Polo T-shirt is made of pique. It's as simple as that.
Pique fabric sometimes is also used for making shirts but its usage in a shirt is limited. Pique fabric used in Polo shirts due to its inherent design is very breathable. Moreover, the base fabric used is mostly cotton. This makes it even more breathable. Ironing is not needed as it is not easily crushed. Its also very durable and lasts long.
Pique is also known as Marcella. Its origin can be traced back to the 18th century. It was developed by the Lancashire cotton industry. In the beginning, it was used for imitation pieces of the corded Provencal quilts, made in Marseille. From here it derived its name, Marcella. Slowly it grew in popularity and now it is a vital fabric especially in men's fashion.
Cotton Polyester Blend
100% cotton fabric loses its colour slowly, so it is advisable to wash it in cold water and with mild washing powder. Harsh chemicals used in washing powder speed up the process and makes the garment unusable only after a few washes. We use Polyester in cotton to overcome this problem. 10% to 20% or sometimes even more amount is used depending upon the requirement. It improves colour-fastness as well as durability. It reduces the breathability but for 10-20% polyester, there is no noticeable difference. Depending upon the fabric treatment given, sometimes even a 50-50 mix is hard to distinguish from pure cotton.
Round Neck T-shirt
Round Neck T-shirt is very popular among the youth. It is also used in sports. The dry fit T-shirts which has moisture wicking properties are mostly of the round neck type. Some of them are also V-neck. Very rarely Dry fit T-shirts are made with collars.