I got my first Polo T-Shirt
It was around 10 years back when my dearest friend gifted me a polo T-shirt. Before this I mostly used to wear round neck or V-neck T-shirts. I don't remember for sure if it was the first time I wore a polo. It was a classic sunshine yellow polo with a blend of 55 cotton and 45 Polyester. It was super soft and its fabric was very breathable. I never felt that I am wearing something which is not 100% cotton. It had ribbed collar and slightly larger than my size. I prefer medium size M 38-40 but it was an L, Large size. I used to wear it at home mostly. It was very comfortable. Being a light colour, it did not fade over time. Quality of the fabric was awesome. Its durability was remarkable.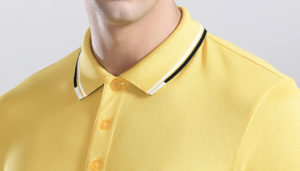 Why did it last so long?
In this modern world of fast fashion we do not wear a cloth more than 10 times, it is surprising to know that its only few months back, I retired that first polo of mine. 10 years is a huge time for a polo t-shirt to last. So what was so special about that and what fabric was it made of? How the stitching was done and how the dyeing process were carried out?
To know all these things I met a seasoned fabric expert. I was also curious to know whether such polo T-Shirts are still manufactured or not. He told me that since such fabric almost last for the lifetime, its highly unprofitable for any company to manufacture it. So they have stopped producing it. There are still some companies which produce it, but they are not very well-known. In a nutshell, it's hard to get such T-shirts now.
When I started BlueAura Apparels, I thought of making such a  Polo T-shirt so that people get what they need. Quality should not be accessible to only an elite group of rich people. It should be available to everyone.
Money mindedness is harming environment
Profit should not be the only motto. Poor quality means production of more clothes. It means running more machines for more time. It consumes energy and create waste. Ultimately it is not good for the environment.